Integrator's first smart IoT solution provides IoT utility monitoring insights for portfolio-wide energy-efficiency and sustainability strategies.
Context
Education facilities are not known for IoT utility monitoring or their sustainability performance. Common industry practice is to pay utility bills without much thought or preparation for the next one. Schools rarely keep track of performance metrics like electricity consumption, water consumption and air quality. This has created some problems across the industry;
Expensive electricity bills due to air conditioners, lights and other appliances operating unnecessarily.
Poor learning environments concentration more difficult for students and teachers.
Wasted water consumption from faucets left on or unnoticed water leaks.
Poor sustainability outcomes from wasted potable water, electricity consumption and associated carbon dioxide emissions.
Not understanding how performance metrics are affected by utility adjustments.
Taking a step in the right direction, a collection of Victorian schools wanted to make a change. The schools appointed QA Electrical to create and upgrade the electrical infrastructure across new and existing schools. This project included deploying an internet-of-things (IoT) solution across 32 schools for remote utility monitoring.
QA Electrical is a national contracting company specialising in electrical, data and engineering services for commercial and industrial clients. Operating since 2007, QA Electrical provides design, installation and maintenance for the latest technologies in integrated electrical solutions. The team was new to IoT and needed a partner with proven success. Undeniably, Nube iO is that partner.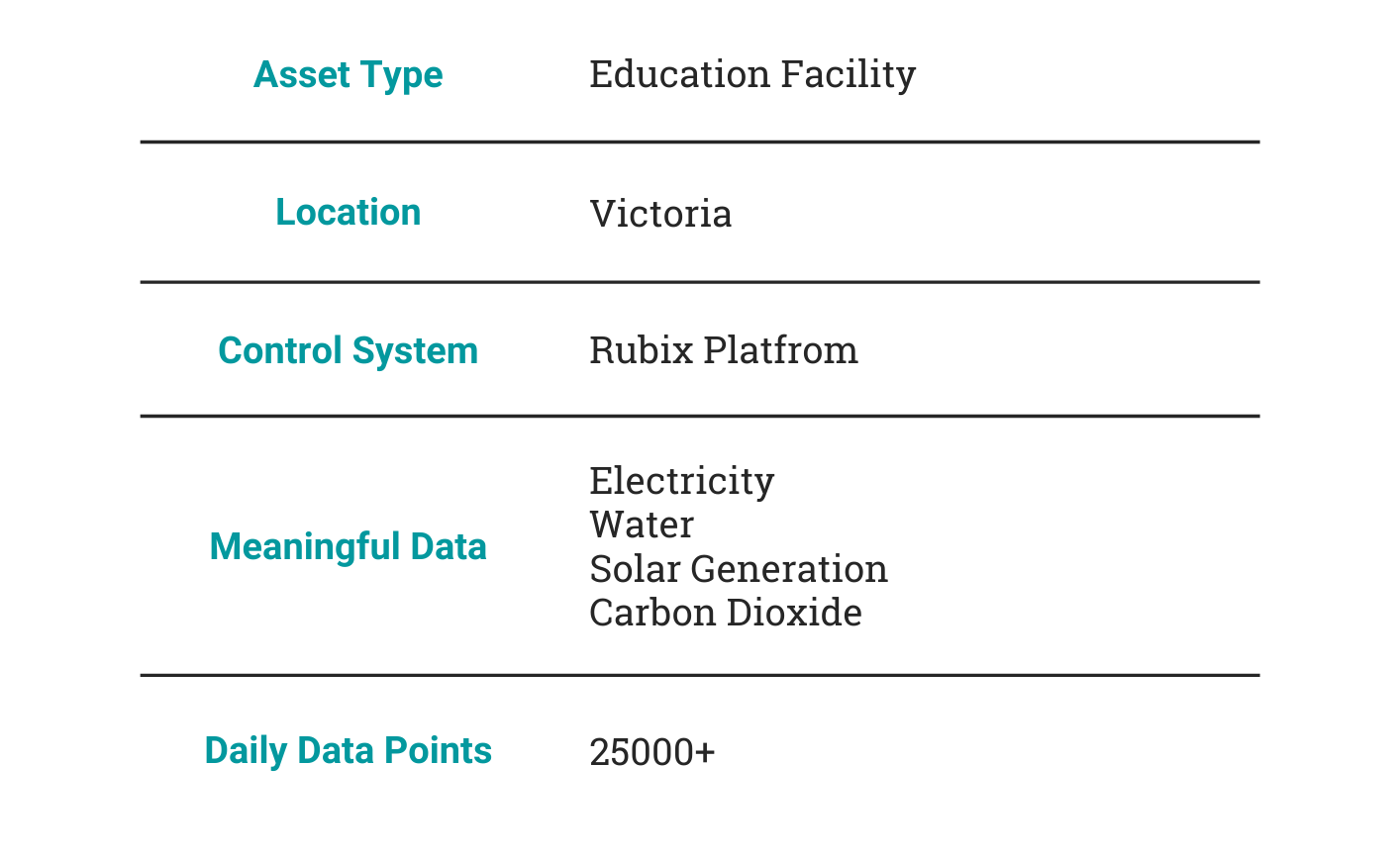 Method
Nube iO kicked off network design and hardware procurement in March 2021. They specified wireless LoRaWAN sensors with a cloud dashboard for remote access. LoRaWAN's flexibility and compatibility made it the ideal solution for QA Electrical.
LoRaWAN sensors;
Easily integrate into existing infrastructure. Compatible with a single view of the entire portfolio making it easy-to-use.
Communicate over large distances making them cost effective for area coverage..
Wireless, cable-free and easily paired with gateways reduces the labour hours for workers onsite.
Battery powered for flexible design and installation
Extended battery life lasts up to five years.
Plenty of domestic LoRaWAN stock for rapid deployment regardless of COVID-19 supply shortages.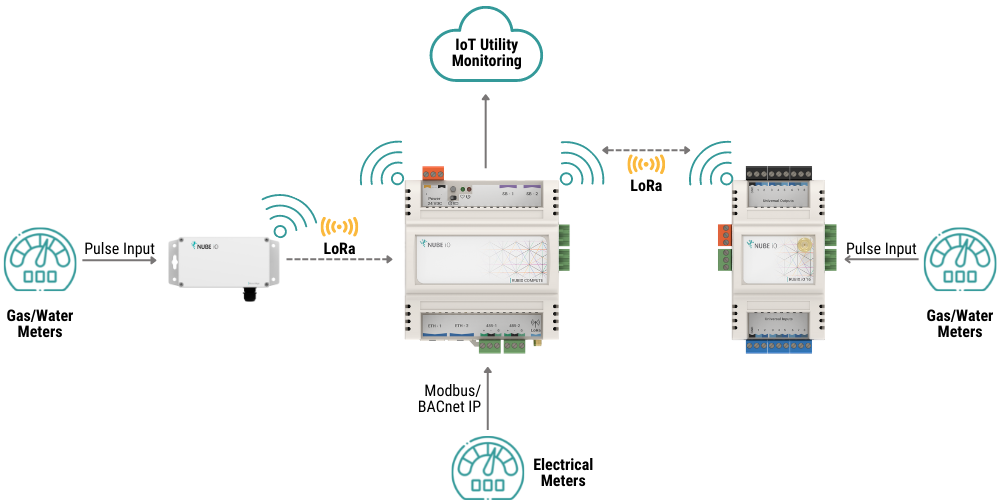 Solution
March 2021 was the beginning of Melbourne's 263-day lockdown and an enormous disruption to Australia's second largest city. Additionally, significant global shortage of IoT stock added more complexity to the client's requirements. COVID-19 impacted semiconductor production and created delays for all kinds of electronics manufacturing.
Project scheduling changed daily as the city released updates on their freedom each morning. Nube iO's technology expertise and market knowledge successfully navigated the global pandemic. By substituting compatible hardware available in Australia, the project avoided global market delays on top of Melbourne's lockdown.
QA Electrical and Nube iO worked together to prepare two key initiatives during the lockdown.
Nube iO provided virtual training to the incumbent QA Electrical teams. Teams learned how and where to install sensors for optimal coverage and performance.
Nube iO also created a live support channel for the install team to submit questions from their smartphone and receive expert responses quickly.
These virtual strategies minimised face-to-face worker interactions, worker hours spent onsite and allowed work to continue during the stay-at-home orders.
IoT Utility Monitoring Hardware
Each school installed:
1 x IoT Gateway (Rubix Compute with LoRa/LoRaWAN)
5 x Utility Meters (LoRaWAN pulse input sensor)
1 x Wireless Modbus converter to LoRa
Devices are configured and managed using Nube iO's cloud-based dashboard. Accordingly, the device management portal provided a single control and access point for the portfolio. Following the infrastructure, QA Electrical added an extra 35 CO2 sensors to sites hoping to include air quality monitoring. These sites will include their learning environments air quality in their site dashboard.
Outcomes
The client was pleased with the project completion in February 2022. The solution outcome is forming a baseline for comparisons in the future. QA Electrical leveraged Nube iO technology and support to deliver;
An agnostic multi-site cloud dashboard and device management portal that aggregates data collected from hundreds of sensors across 32 education facilities
Insights and remote management of individual and overarching portfolio utility and air quality performance
Effective monitoring and optimisation of sustainability targets and enhanced wellbeing for students and staff
Minimal pandemic-related impacts to program and budget thanks to the innovative and proactive approach to hardware roll out.
"I was surprised by the consistency of usages from day to day / week to week across sites, I was expecting a greater variance. This may provide an opportunity for accurate predictions to be inferred from this data set.

Once insights are made, there will be opportunity to set targets for utility usages and monitor/track the progress in achieving them."
Electrical Engineer from QA Electrical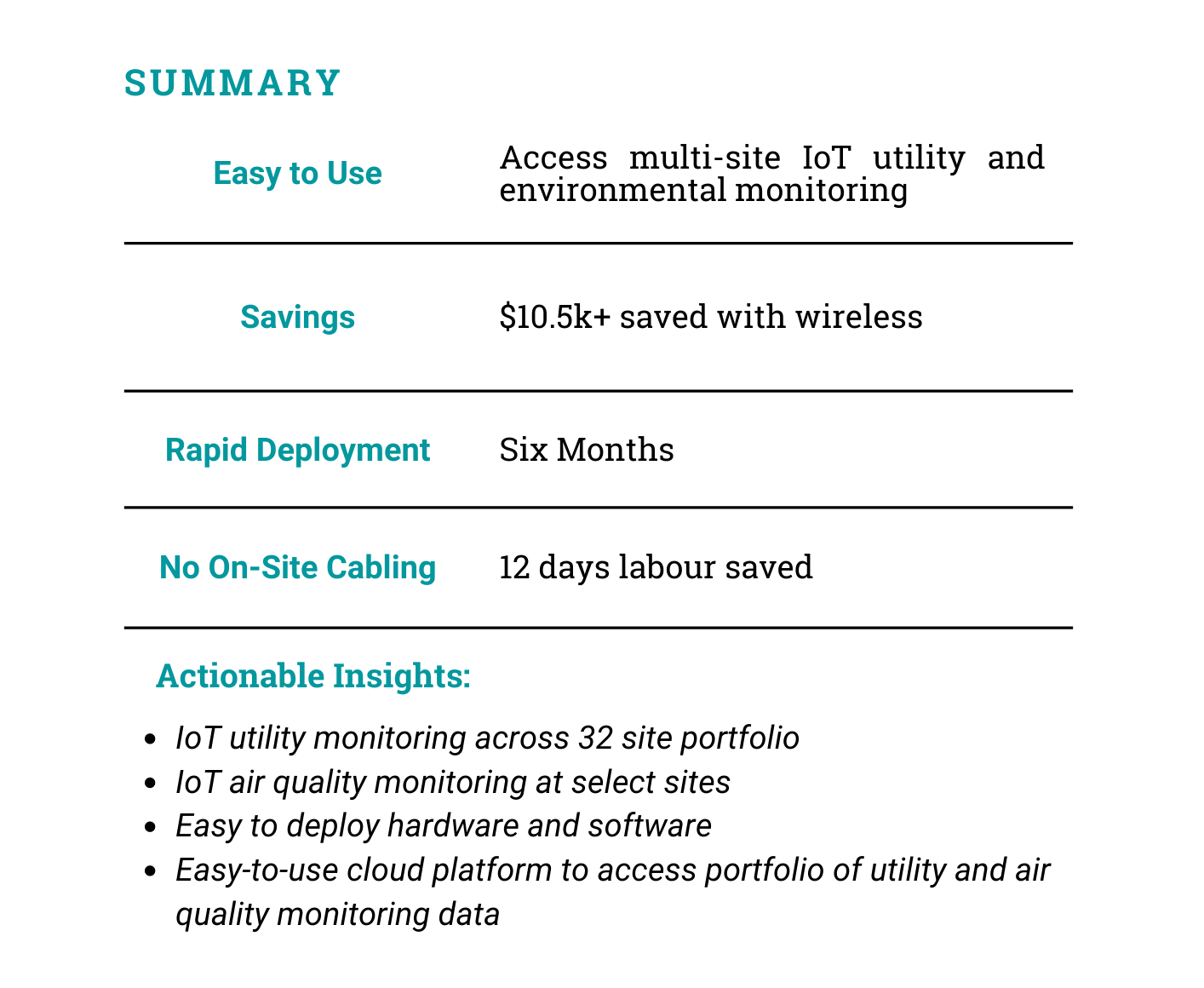 Partnering with an expert in  IoT technology supplier can make or break an investment.  In today's unpredictable environment, reliable hardware, strong aftermarket support and deep industry expertise are essential to ensure that IoT projects can be delivered safely, on-time and on-budget. Providing a solution that is both IoT and building automation ready bridges the gap between outdated technologies and the smart buildings of the future.
"Nube iO provided clear communication, training, and collaboration. In the midst of a global pandemic which presented severe supply chain and other issues, our partnership with Nube iO enabled quick resolution of pain points and successful implementation of a cutting edge IoT network solution."
QA Electrical
If you own, operate or interact with a small building, are having problems with outdated technology or need to know more about QA Electrical's deployment of Nube iO get in touch at:
+61 2 7906 8414
info@nube-io.com